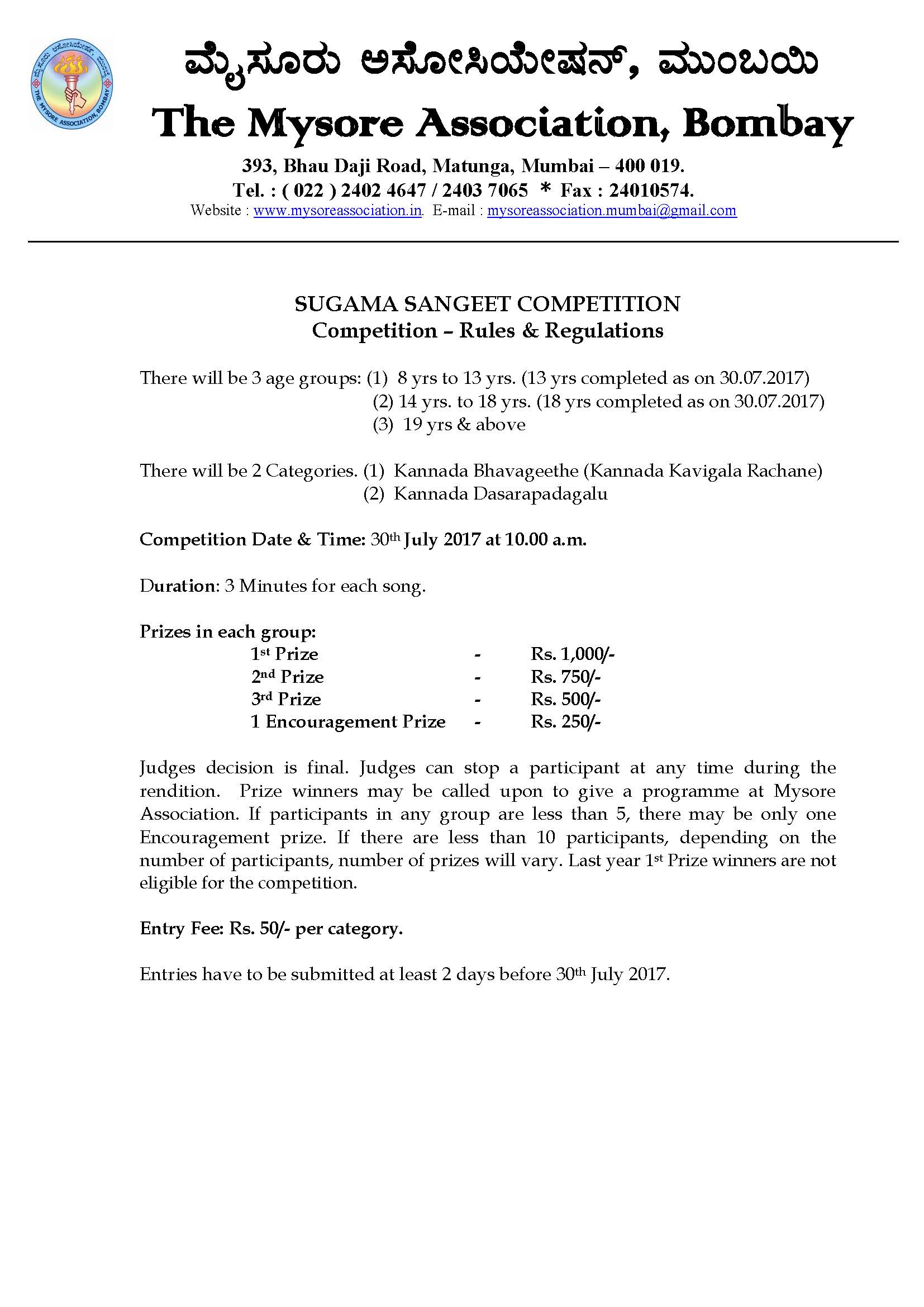 SUGAMA SANGEET COMPETITION
Competition – Rules & Regulations
There will be 3 age groups: (1)  8 yrs to 13 yrs. (13 yrs completed as on 30.07.2017)
                                                  (2) 14 yrs. to 18 yrs. (18 yrs completed as on 30.07.2017)
                                                  (3)  19 yrs & above
There will be 2 Categories.             (1)  Kannada Bhavageethe (Kannada KavigaLa Rachane)
                                                (2)  Kannada Dasarapadagalu
Competition Date & Time: 30th July 2017 at 10.00 a.m.
Duration: 3 Minutes for each song.
Prizes in each group:
1st Prize                                  -           Rs. 1,000/-
2nd Prize                                 -           Rs. 750/-
3rd Prize                                 -           Rs. 500/-
1 Encouragement Prize      -           Rs. 250/-
Judges decision is final. Judges can stop a participant at any time during the rendition.  Prize winners may be called upon to give a programme at Mysore Association. If participants in any group are less than 5, there may be only one Encouragement prize. If there are less than 10 participants, depending on the number of participants, number of prizes will vary. Last year 1st Prize winners are not eligible for the competition.
Entry Fee: Rs. 50/- per category.

Entries have to be submitted at least 2 days before 30th July 2017.  
Application Form
 

Name

 

 

 

:

 

 

 

 

 

Date of Birth

Attach any proof

 

 

:

 

 

 

 

 

Address

 

 

 

:

 

 

 

 

 

Tel No.

 

 

 

:

 

 

 

 

 

Email address

 

 

 

:

 

 

 

 

 

Academic Qualification

 

 

:

 

 

 

 

 

School / College

 

:

 

 

 

 

 

Music Qualification

 

 

 

:

 

 

 

 

 

Learning since

 

 

 

:

 

 

Music Teacher's Name

 

 

:

 

 

 

 

 

Music Teacher's Address & Tel. No.

 

 

:

 

 

 

 

 

Receipt No

 

 

 

:

 
The Mysore Association is conducting a music competition in Karnatak Classical & Sugama Sangeeta to promote fresh talent . The Competition is at Mysore Association's premises on July 30, 2017. For More Details Contact: 022-2402 4647 / 2403 7065